OUR STORY
Since 1996 Healthspan has offered a complete fitness program focused on the whole health of its clients from rehabilitation to fitness training. Healthspan founder Robert Davenport takes a personalized approach offering guidance, coaching, mentoring and support for each individual client to help them achieve their fitness goals.
Healthspan is more than a gym, it is a destination for those wishing to improve quality of life, movement & fitness. We offer solutions that help people in all stages of injury, health, and neglect regain & surpass their fitness goals whether it is to run a marathon or rise from an armchair.
OUR FOUNDER
Robert Davenport has received numerous awards for his excellence in the health and fitness industry. Recognized as best trainer by Texas Women's Magazine, best personal trainer by Texas Women's Chamber of Commerce and selected by Houston's Mayor to drive excellence in health and fitness for Houston's executives so they may model healthy lifestyles, Robert is a tireless advocate for total body wellness.
A specialist in movement disorders, Robert is especially revered by his Parkinson Disease patients who depend on his support and motivation to help stall the disease. HealthSpan offers a total wellness program for individuals at all health levels and goals.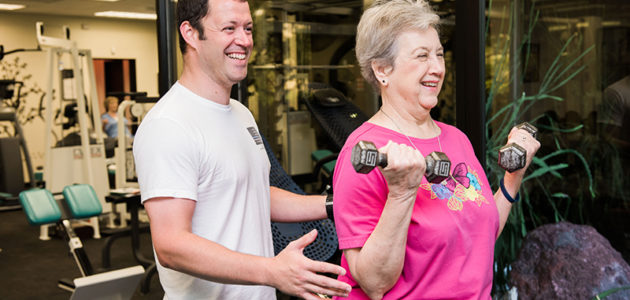 OUR TRAINERS
We employ trainers who are certified in a variety of disciplines focused on providing you with optimal results for your fitness plan. We offer complete training and wellness services including advanced hormone optimization, rehabilitation, nutrition and fitness training.
Our highly skilled and trained staff also specializes in mobility to achieve structural integration of necessary components for daily life, providing the foundation for accelerating your fitness program. Past injuries, underlying conditions and structural imbalance if not addressed can cause future injury and should be accounted for in your fitness plan. Our trainers will work closely with you to customize a program that works for you and achieves your fitness goals.
HealthSpan only employs trainers who are certified and degreed in areas such as:
Exercise Science, Exercise Physiology, Kinesiology, and Pharmacology.

Meet
Robert Davenport
Thank you for taking an interest in our unique approach to providing health, wellness and fitness services. It's important to understand how the training you choose affects your body. Be cautious of popular new training systems that could cause long-term harm like knee injuries, back injuries and more.  Our training techniques are built on thez philosophy that there are four drivers for improving health and overall fitness:
To improve, each person must take into account each of these elements ensuring your body is receiving the right foods, consuming enough water, continuous movement and enough sleep. Consult with a Healthspan fitness trainer to understand what approach may be best for your fitness goals.
Experience & Qualifications:
Post-Rehab Technician (AAFP)
Pilates Mat & Reformer Instructor
Certified Fitness Counselor
Certified Rehabilitation Exercise Specialist
Human Performance Specialist
Certified Resistance Trainer
ACSM Health/Fitness Instructor
Fitness Instructor Trainer (PFIT)
Still Have Questions? Speak with a Professional Trainer Today.

Call 713-876-2800 For a Consultation